Model Domain and Bathymetry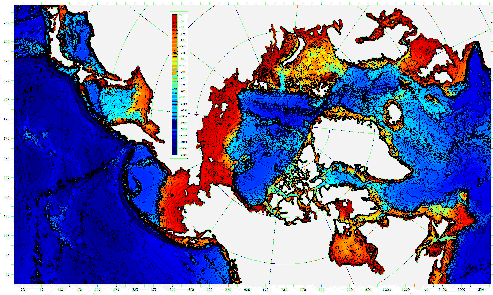 The horizontal resolution is 1/12 degree, or approximately 9 km, and 45 levels in the vertical (click here for vertical resolution information). The array size is (1280x720x45). At this point the domain includes the Labrador, Irminger, North, and Baltic Seas on the Atlantic side and the Bering Sea, Sea of Okhotsk and the Sea of Japan on the Pacific side.
PIPS 3.0 model bathymetry south of 64 N is derived from the ETOPO5 database, Navy Research Lab charts and Canadian Hydrographic Service charts. Bathymetry north of 64 N is derived from the 2.5 km resolution digital International Bathymetric Chart of the Arctic Ocean (IBCAO).
---
This is an official U.S. Navy Web site.
Material contained herein is made available for the purpose of peer review and discussion
and does not necessarily reflect the views
of the Department of the Navy or the Department of Defense.
---
- Last modified 29 January 2003 -
Web site comments or questions?
E-mail the Web Author