Sand Camera
The "Sand Cam" is a high resolution video camera mounted on the cabled node frame at 12m depth underwater. It is directed toward the ocean floor and provides continuous images of the ocean bed over an approximately 1m by 1m area, with offshore to the left of the image. The picture below is a typical image taken by the bed camera. A thin line of structured light seen near the middle of the image is used to measure the height of the bedforms as they evolve in time. During calmer wave conditions, clam vents and bottom fish (including sand dabs) are frequently seen in the image. The bumps and ripples are primarily formed by the cross-shore movement of water forced by swell-period waves travelling over the measurement area. These ripples significantly effect the decay of swell waves as they travel across the continental shelf, and are the subject of an Office of Naval Research program called SHOWEX .

Click here for real time video images of the MISO frame underwater camera (right panel) looking along the MISO frame, and the Surf Camera (left panel), to see the current inner shelf and surf conditions.

An analysis of twenty days of the cross-shore bed profile can be seen in results from Damon Dixon's thesis.

A movie loop of 5 minute averaged images can be normally be downloaded from the end of this page, but it is currently unavailable.


---
Current image is temporarily unavailable
Historical 5 Minute Mean Picture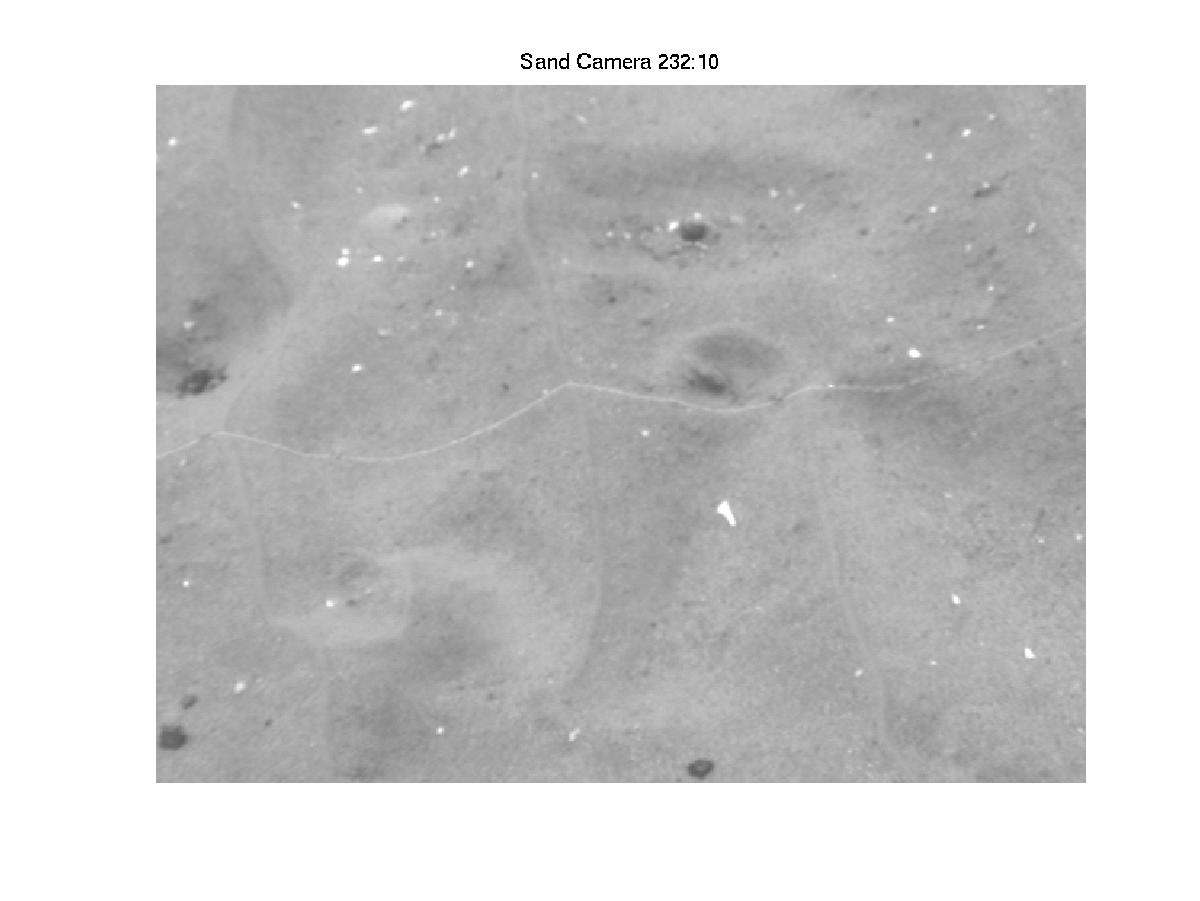 If your browser will play an MPEG movie clip you can Click Here to view a sequence of 30 bed camera images sampleed about 2 times / second. This file is about 160Kbytes. This usually shows the movement of paricles on the bed, and sometimes the presence of sand dabs, crabs, and feeding clams.

---


Last Reviewed: February 2003
stanton@nps.edu
Disclaimer
Privacy and Security Notice
Disclaimer for External Links

Material contained herein is made available for the purpose of peer review and discussion and does not necessarily reflect the the views of the Department of the Navy or the Department of Defense.




Back